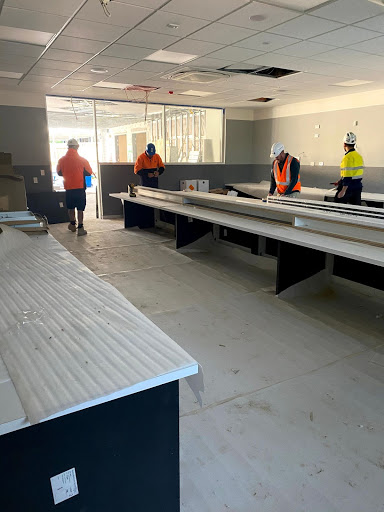 In the past 12 months we've seen our old Rice Playground undergo a mass transformation; from a cleared-out construction site into a stunning five-level building. We are proud to let the community know that we are now nearing completion.
So excited we are by the progress, that we just had to provide you with a sneak preview.
In its most recent developments, the scaffold has been removed to reveal a radiant white façade complemented by blue aluminum fins (see below). The two stairwells, each containing a large glass Celtic Cross visible from the western and southern facades, proudly symbolise our links to our patron saint, St Patrick.
Just as exciting are the interior features; from the electric car chargers in the basement to the woodland and rainforest eco platforms on the top floor.
We are creating a new building that is sustainable and innovative; classrooms that are flexible and foster collaboration, and specialty rooms that will inspire.
We can't wait to complete and share these great new facilities with the St Patrick's community in due course.
Mrs Jodie Alvaro, Business Manager